Press Releases and News
Discover what's new at SACE: the world of exports, the latest news and market scenarios, the trends in Italian industry and the most interesting success stories.
Deals
SACE
-
10 April 2018
With SACE Bottero glass-processing machinery is capturing the African continent
SACE, which with SIMEST forms the export and internationalization hub of the CDP Group, has guaranteed exports worth € 1.5 million to Kenya and South Africa in favor of Bottero, one of the principal world manufacturers of automatic glass processing machinery.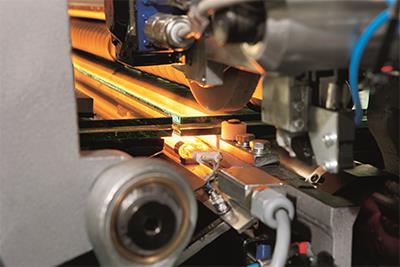 The Cuneo-based company, which has subsidiaries and plants in Europe, China, Brazil, and the United States, is a longtime client of SACE SIMEST. It has obtained loans from SIMEST for international growth and has guaranteed with SACE its orders for several countries, from Turkey to Kazakhstan and from the U.K. to China, up to these two orders for the African continent, a complex market but one of high-potential for future development for all segments of Italian capital machinery.
"Thanks to the finalization of these contracts, Bottero has strengthened its presence in Sub-Saharan Africa in the sector of machinery for hollow and flat glass products," declared Iose Olmo, CFO of Bottero. "The partnership with SACE is essential to us for reaching new customers in emerging markets and offering them alternative, more advantageous financing options than the traditional forms, while protecting our collections."
Bottero has been in the glass market for over 50 years and operates in all segments of its industry, including hollow, flat, laminated, and solid glass and special equipment. In recent years, the Piedmont company has steadily increased its R&D activity to offer its customers technologically advanced and innovative products.
Documents
Events
Check our up-to-date schedule of meetings, courses, seminars and workshops related to the world of SACE.
Media Gallery
Videos and photos to keep up-to-date with the latest news from SACE: interviews, presentations and much more besides.
Social Media
Social networks represent a privileged communication channel for SACE to maintain a constant contact with all stakeholders.
We are present on all major social platforms:
X: is our leading communication channel out there where we talk about all of our initiatives, operations with our customers and where we live our events live.
Facebook: On the page, given the vast and heterogeneous audience, we find in depth the stories of Italian companies we support all over the world and our insights on countries and sectors by our economists.
Linkedin: In this platform, which collects a professional audience, we publish all our economic studies and job ads.
Youtube: All our interviews to our customers, our people, our video tutorials from our economists, and success stories find room in our YouTube channel.
Would you like more information?