Press Releases and News
Discover what's new at SACE: the world of exports, the latest news and market scenarios, the trends in Italian industry and the most interesting success stories.
Deals
SACE
-
30 January 2018
Steel Exports for ASO Group of Brescia
UniCredit, BNLGruppo BNP Paribas and SACE, which with SIMEST forms the export and internationalization hub of the CDP Group, have finalized a € 16 million loan to support the exports of the ASO Group.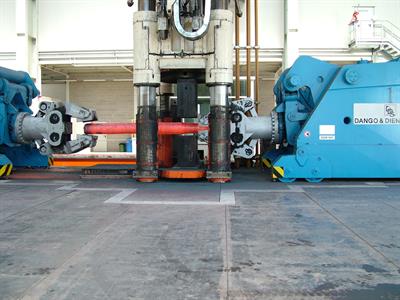 The line of credit, issued by the two banks and guaranteed by SACE, is earmarked for purchasing an innovative forging line for the production of round steel bar for export to various international markets such as the USA, Mexico, China, India, South Africa, and the European Union.
"This initiative, as a strategic investment," declared Paola Artioli, ASO Group CEO "will strengthen the presence of our companies in the international markets." "Conceived as part of a 4.0 program to complete our highest quality product range, it will enable us to optimize overall performance and increase turnover in future years".
"By supporting companies like ASO, we are confirming our commitment to support a dynamic local industrial system with an international calling. This initiative confirms that technological innovation and internationalization are the necessary combination for competing and confronting the challenge of foreign markets," declared Simonetta Acri, Chief Sales Officer of SACE (CDP Group). "Through our offices in Brescia and Milan, the export and internationalization hub serves more than 5,000 companies in Lombardy alone and, just in the first half of 2017, mobilized over € 6 billion in resources to support the international development of Lombard enterprises."
ASO, founded at Ospitaletto (BS) in 1971, is a "pocket" multinational that produces special, innovative steel products with specific physical and chemical characteristics for the forging market.
Documents
Events
Check our up-to-date schedule of meetings, courses, seminars and workshops related to the world of SACE.
Media Gallery
Videos and photos to keep up-to-date with the latest news from SACE: interviews, presentations and much more besides.
Social Media
Social networks represent a privileged communication channel for SACE to maintain a constant contact with all stakeholders.
We are present on all major social platforms:
X: is our leading communication channel out there where we talk about all of our initiatives, operations with our customers and where we live our events live.
Facebook: On the page, given the vast and heterogeneous audience, we find in depth the stories of Italian companies we support all over the world and our insights on countries and sectors by our economists.
Linkedin: In this platform, which collects a professional audience, we publish all our economic studies and job ads.
Youtube: All our interviews to our customers, our people, our video tutorials from our economists, and success stories find room in our YouTube channel.
Would you like more information?