Press Releases and News
Discover what's new at SACE: the world of exports, the latest news and market scenarios, the trends in Italian industry and the most interesting success stories.
Deals
SACE
-
01 March 2018
SACE (CDP Group) supports Atala's export: € 600,000 financing for the internationalization of the historical Lombard firm
SACE, which with SIMEST forms the export and internationalization hub of the CDP Group, has finalized a € 600,000 loan to support the export activity of Atala.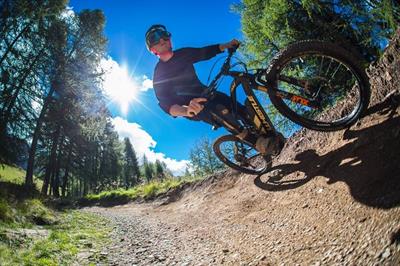 The line of credit, guaranteed by SACE, will be used to support the business of the historical bicycle manufacturer, which will use the new resources to purchase components from foreign suppliers. With this initiative, SACE confirms its commitment to bolster companies that give Made in Italy worldwide distribution.
"The transaction is part of the growth process of the company, which closed 2017 with a significant improvement in sales and after-tax earnings," declared Massimo Panzeri, CEO of Atala. "A further 5.8% increase in sales is forecasted for 2018, driven primarily by foreign markets, which will grow 25.5 % versus the previous year, based on our order book."
The Atala trademark, founded in Milan more than a century ago, is synonymous with Made in Italy know-how and quality. The company, which moved its HQ from Padua to Monza in 2009, has been building bicycles since 1907: the winner of the first Giro d'Italia was wearing Atala's jersey. Thanks to continuous R&D activity, the company has remained an industry leader through the decades. It has exported its products to numerous countries, including Switzerland, Spain, Belgium, France, Finland, and Austria.
Documents
Events
Check our up-to-date schedule of meetings, courses, seminars and workshops related to the world of SACE.
Media Gallery
Videos and photos to keep up-to-date with the latest news from SACE: interviews, presentations and much more besides.
Social Media
Social networks represent a privileged communication channel for SACE to maintain a constant contact with all stakeholders.
We are present on all major social platforms:
Twitter: is our leading communication channel out there where we talk about all of our initiatives, operations with our customers and where we live our events live.
Facebook: On the page, given the vast and heterogeneous audience, we find in depth the stories of Italian companies we support all over the world and our insights on countries and sectors by our economists.
Linkedin: In this platform, which collects a professional audience, we publish all our economic studies and job ads.
Youtube: All our interviews to our customers, our people, our video tutorials from our economists, and success stories find room in our YouTube channel.
Would you like more information?