Press Releases and News
Discover what's new at SACE: the world of exports, the latest news and market scenarios, the trends in Italian industry and the most interesting success stories.
Deals
SACE
-
29 June 2018
SACE (CDP Group) completes financing in support of the Italian division of Baker Hughes, a GE company's supply of power generation equipment to Iraq
SACE, which with SIMEST forms the Italian export and internationalization Hub of the CDP Group, has finalized a financing worth $190 million to support contracts awarded to Nuovo Pignone (Italian division of Baker Hughes, a GE company) in 2016 as part of a larger project promoted by the Iraqi Government to revamp two power stations in Iraq.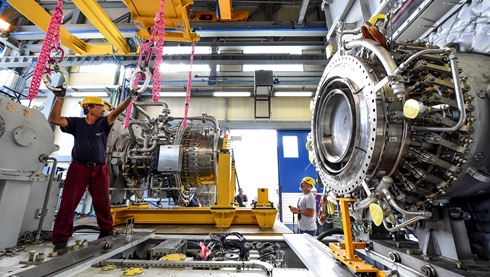 This marks the successful financial close of the loan, issued by a pool of international banks and guaranteed by SACE, with the reinsurance of UK Export Finance, the UK's export credit agency, on a portion of the financing. As part of the equipment order, BHGE exported 12 Frame 5 turbines to the Hilla Power Plant and Baghdad South 2 Gas Power Plant. Thanks to innovative and robust technology, the equipment will ensure reliable energy production of the plants and maximize efficiency over time.
The project is part of a broader energy efficiency plan of the Iraqi government and aims to strengthen infrastructure and meet the energy needs of the country by increasing the production of electricity by 2 gigawatts.
Iraq is facing a delicate phase of political and economic transition and reconstruction that, thanks to the inflow of international investments, offers companies opportunities in various sectors, including infrastructure. Through this initiative, the SACE SIMEST Hub is confirming its commitment to support Italian excellence around the globe, even in a complex market like Iraq, where insurance and financing solutions to mitigate risks are essential.
Documents
Events
Check our up-to-date schedule of meetings, courses, seminars and workshops related to the world of SACE.
Media Gallery
Videos and photos to keep up-to-date with the latest news from SACE: interviews, presentations and much more besides.
Social Media
Social networks represent a privileged communication channel for SACE to maintain a constant contact with all stakeholders.
We are present on all major social platforms:
X: is our leading communication channel out there where we talk about all of our initiatives, operations with our customers and where we live our events live.
Facebook: On the page, given the vast and heterogeneous audience, we find in depth the stories of Italian companies we support all over the world and our insights on countries and sectors by our economists.
Linkedin: In this platform, which collects a professional audience, we publish all our economic studies and job ads.
Youtube: All our interviews to our customers, our people, our video tutorials from our economists, and success stories find room in our YouTube channel.
Would you like more information?