Press Releases and News
Discover what's new at SACE: the world of exports, the latest news and market scenarios, the trends in Italian industry and the most interesting success stories.
Deals
SACE
-
18 July 2018
SACE (CDP Group) brings SREI Group to Italy: € 90 million of opportunities for Italian equipment exports to India
SACE (CDP Group) has guaranteed a € 30 million, granted by ING Bank, a Branch of ING-DiBa AG, to Srei Equipment Finance Ltd - SEFL, a SREI group company, specialized in equipment financing services for the infrastructure sector.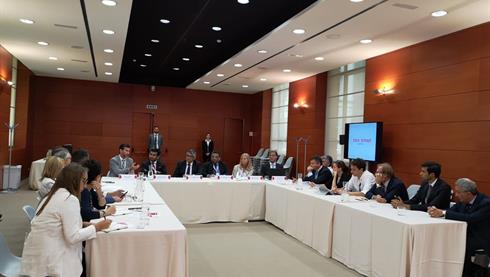 SACE's support to SREI consolidates their business relations and will facilitate the assignment of more than € 90 million in new orders from Italian exporters operating in the construction & mining, healthcare, and farm equipment sectors.
This transaction with SREI, a group with more than 75,000 customers and 90 branches across the country, represents an extraordinary opportunity for Italian SMEs to be involved in the Indian Government's 200-billion-dollar investment plan. This initiative will build ports, rails, roads and mining infrastructure over the next five years, with an estimated impact on machinery and equipment sectors of 30 billion dollars.
This is another loan granted by SACE under its Push Strategy, a proactive approach introduced with the new business plan, which strives to facilitate and strengthen the competitiveness of Italian exports among selected foreign buyers and in strategic sectors for Made in Italy products.
To that scope, from 17 to 19 July, top management of the Indian Group SREI and Italian exporters will meet up in three days of business matching events in Vicenza, Bologna and Milan.
Founded in 1989 with the aim of offering financial solutions for the implementation of infrastructure projects, today SREI is the largest Indian group active in the sector. With over 5.5 billion dollars of consolidated assets under management, SREI is able to offer a wide range of services along the entire value chain in the infrastructure sector: project financing, leasing services, consulting, and innovative financial solutions for its customers.
According to the latest SACE Export Report, India is one of the 15 "essential" markets for Made in Italy products, and those countries contributed for 95 billion euro to total Italian exports in 2017. Last year, Italian exports to India recorded a 9.3% growth rate, with positive forecasts for the next four years (+ 7.7% on average in 2018-2020). The Make in India program, actually, will open up interesting opportunities for Italian exports of investment goods, particularly machinery tools, a sector involved in various industries, from automotive to food processing, from energy to telecommunications.
Documents
Events
Check our up-to-date schedule of meetings, courses, seminars and workshops related to the world of SACE.
Media Gallery
Videos and photos to keep up-to-date with the latest news from SACE: interviews, presentations and much more besides.
Social Media
Social networks represent a privileged communication channel for SACE to maintain a constant contact with all stakeholders.
We are present on all major social platforms:
X: is our leading communication channel out there where we talk about all of our initiatives, operations with our customers and where we live our events live.
Facebook: On the page, given the vast and heterogeneous audience, we find in depth the stories of Italian companies we support all over the world and our insights on countries and sectors by our economists.
Linkedin: In this platform, which collects a professional audience, we publish all our economic studies and job ads.
Youtube: All our interviews to our customers, our people, our video tutorials from our economists, and success stories find room in our YouTube channel.
Would you like more information?