Press Releases and News
Discover what's new at SACE: the world of exports, the latest news and market scenarios, the trends in Italian industry and the most interesting success stories.
Deals
SACE
-
07 February 2018
With SACE and BNL Group BNP Paribas, Bric's Luggage Travels Abroad
BNL Group BNP Paribas and SACE, which with SIMEST forms the export and internationalization hub of the CDP Group, have finalized a € 700,000 loan to support the international growth plans of the well-known luxury luggage brand Bric's.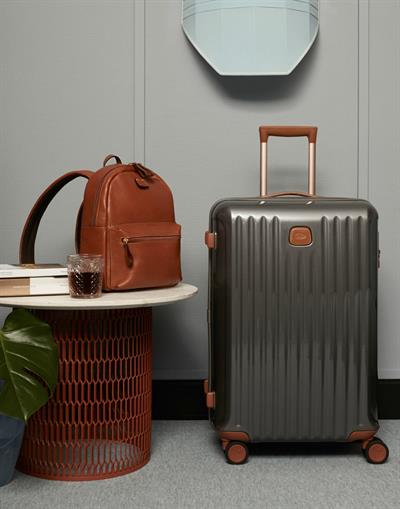 The line of credit, issued by BNL and guaranteed by SACE, is earmarked to cover the costs of expansion of the Como-based group in foreign markets, especially Europe, Asia and the United States. Bric's has always focused on the international markets, as demonstrated by its long-standing relations with SIMEST, which has supported the company's expansion plans for North America.
"Thanks to the support of SACE SIMEST, we have successfully expanded our business in the foreign markets, particularly the United States, where we have seen growing recognition of the Bric's brand," declared CEO Maria Angela Briccola. "Specifically, the support of SIMEST in the years prior to 2008 was useful for facing the challenges posed by the financial crisis."
Bric's, an established firm in the Lake Como area, has been in business since 1952, producing luggage, travel bags, and saddlery. The company has become a leading brand in its sector, appealing to the middle-high market bracket and stressing values such as quality, craftsmanship, and practicality. With its international calling, Bric's is present through numerous retail outlets in Italy and abroad, particularly Germany, China, the United States and South Korea, markets that account for 50% of total sales.
With this initiative, SACE and BNL Group BNP Paribas confirm their joint commitment to assist the growth of Italian companies that broadcast the excellence of Made in Italy to the world.
Documents
Events
Check our up-to-date schedule of meetings, courses, seminars and workshops related to the world of SACE.
Media Gallery
Videos and photos to keep up-to-date with the latest news from SACE: interviews, presentations and much more besides.
Social Media
Social networks represent a privileged communication channel for SACE to maintain a constant contact with all stakeholders.
We are present on all major social platforms:
Twitter: is our leading communication channel out there where we talk about all of our initiatives, operations with our customers and where we live our events live.
Facebook: On the page, given the vast and heterogeneous audience, we find in depth the stories of Italian companies we support all over the world and our insights on countries and sectors by our economists.
Linkedin: In this platform, which collects a professional audience, we publish all our economic studies and job ads.
Youtube: All our interviews to our customers, our people, our video tutorials from our economists, and success stories find room in our YouTube channel.
Would you like more information?