Press Releases and News
Discover what's new at SACE: the world of exports, the latest news and market scenarios, the trends in Italian industry and the most interesting success stories.
Deals
SACE
-
28 September 2017
UniCredit and SACE (CDP Group) for the international growth of Ferretti Group: € 35 million to support new yacht orders
UniCredit and SACE, which with SIMEST forms the export and internationalization hub of the CDP Group, have finalized a financing deal in order to support Ferretti Group in providing new foreign orders.
The € 35 million credit line, issued by UniCredit and guaranteed by SACE, is aimed to support the working capital requirements of the Emilia-Romagna Group to execute foreign orders for yachts and pleasure crafts.
Alberto Galassi, Ferretti Group's CEO, affirmed: «UniCredit and SACE are supporting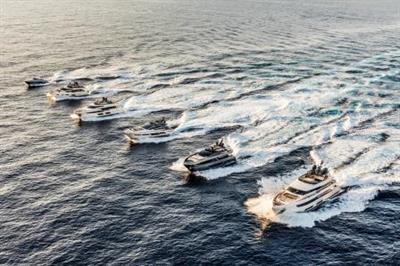 Ferretti Group's growth. The new credit lines will be used for the construction of ships ordered from abroad. Ferretti Group is obtaining an extraordinary commercial success that will enable the company to close the year with over € 400 million of new orders, confirming and consolidating the extraordinary result reached in 2016 with a return to double-digit earnings. The Group is strongly pursuing international commercial penetration: the Europe - Middle East - Africa area accounted for 53% of the new orders, Americas for 28%, and Asia Pacific markets for 19%. For a complex product with long put-through times, the growth of the Group and its exports requires the support of expert, solid and dependable financial partners. UniCredit and SACE are partnering with the Ferretti Group, sustaining the growth and the success of a leading Italian company in the international shipping market».
With this deal, UniCredit and SACE confirm their commitment in favor of Italian shipbuilding companies, a field where Made in Italy plays a crucial role at the global level. Specifically, SACE has supported the Ferretti Group in various operations, providing the guarantees the company required to provide and execute foreign orders.
Ferretti Group is a world leader in the design, construction and marketing of motor yachts and pleasure crafts. The company has six modern shipyards, which are all located in Italy, where it builds ships and boats from 8 to 90 meters made of fiberglass, steel and aluminum under the trademarks Ferretti Yachts, Pershing, Itama, Riva, Mochi Craft, CRN and Custom Line. In addition to its presence in the United States and Asia through its subsidiaries, the group may count on a network of 60 dealers who operate in over 80 countries worldwide.
Documents
Events
Check our up-to-date schedule of meetings, courses, seminars and workshops related to the world of SACE.
Media Gallery
Videos and photos to keep up-to-date with the latest news from SACE: interviews, presentations and much more besides.
Social Media
Social networks represent a privileged communication channel for SACE to maintain a constant contact with all stakeholders.
We are present on all major social platforms:
Twitter: is our leading communication channel out there where we talk about all of our initiatives, operations with our customers and where we live our events live.
Facebook: On the page, given the vast and heterogeneous audience, we find in depth the stories of Italian companies we support all over the world and our insights on countries and sectors by our economists.
Linkedin: In this platform, which collects a professional audience, we publish all our economic studies and job ads.
Youtube: All our interviews to our customers, our people, our video tutorials from our economists, and success stories find room in our YouTube channel.
Would you like more information?