Press Releases and News
Discover what's new at SACE: the world of exports, the latest news and market scenarios, the trends in Italian industry and the most interesting success stories.
Agreements
SACE
-
21 December 2017
SACE SIMEST and Maire Tecnimont: 4.5 billion euro worth of new initiatives underevaluationand and strengthen Italian SMEs of the Group's supply chain
SACE SIMEST – the export and internationalization hub of CDP Group – and Maire Tecnimont have signed today an important agreement to support the Italian supply chain of the Engineering and Construction Group focused on the oil & gas, petrochemical and fertilizer sectors.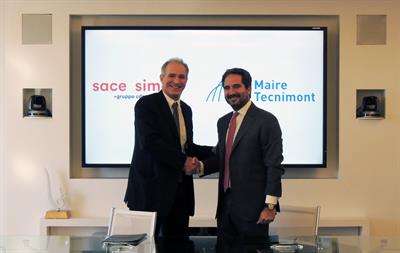 This agreement strengthens the long-term partnership that enabled to finance during the last five years €3 billion worth of projects awarded to Maire Tecnimont globally. An overall amount which is expected to increase, in view of €4.5 billion worth of initiatives that SACE SIMEST is currently evaluating in order to support new projects that could be awarded to the Italian Group. 2 Under the agreement signed today by the CEOs of both companies, 50 SMEs of Maire Tecnimont's supply chain will be able to use insurance and financial instruments as well as SACE SIMEST's experts to strengthen their competitive edge in Italy and abroad.
Fabrizio Di Amato, Maire Tecnimont Chairman, commented: "With the agreement signed today by our CEO Folgiero, we take a step forward in promoting the Italian technological supply chain involved in our projects worldwide. We are strongly committed to increasing the competitive edge of the Made in Italy engineering value chain, and we do so both through our business operations, both through the institutional and entrepreneurial community, which has recently been relaunched in the frame of Assolombarda".
"This agreement confirms our commitment both in supporting Italian large players' growth in international markets and strengthening the SME's clusters – stated Alessandro Decio, SACE Chief Executive Officer –. Thanks to SACE SIMEST tools and resources, small and medium enterprises can increase their quality and express their potential in Italy and worldwide".
Thanks to the agreement, Maire Tecnimont's suppliers will be able, for instance, to obtain liquidity through the advance payment of their supplies, to collect past due receivables worldwide, to receive the necessary guarantees to execute new supply contracts and to protect their revenues from the risk of non-payment. Furthermore, they will have various financial solutions available to invest and grow in the international markets: from low interest-rate financing in order to internationalize their activity, to equity investments in the company or its foreign subsidiaries.
Among the latest main deals, it's worth mentioning the SACE SIMEST support in financing $840 million for an ORPIC petrochemical complex in Oman and €575 million for a Eurochem ammonia plant in Russia. Many Italian SMEs benefit from this works thanks to the assignment of large supply contracts, as in the case of the ORPIC plant in Oman where 90 Italian suppliers participated, generating 154 million dollars of revenues.
Documents
Events
Check our up-to-date schedule of meetings, courses, seminars and workshops related to the world of SACE.
Media Gallery
Videos and photos to keep up-to-date with the latest news from SACE: interviews, presentations and much more besides.
Social Media
Social networks represent a privileged communication channel for SACE to maintain a constant contact with all stakeholders.
We are present on all major social platforms:
X: is our leading communication channel out there where we talk about all of our initiatives, operations with our customers and where we live our events live.
Facebook: On the page, given the vast and heterogeneous audience, we find in depth the stories of Italian companies we support all over the world and our insights on countries and sectors by our economists.
Linkedin: In this platform, which collects a professional audience, we publish all our economic studies and job ads.
Youtube: All our interviews to our customers, our people, our video tutorials from our economists, and success stories find room in our YouTube channel.
Would you like more information?