Press Releases and News
Discover what's new at SACE: the world of exports, the latest news and market scenarios, the trends in Italian industry and the most interesting success stories.
Export forecast
SACE
-
23 April 2018
SACE SIMEST 2017 Results: € 25 billion (+41%) for export and internationalization of Italian companies
The Board of Directors of SACE (GDP Group), chaired by Beniamino Quintieri, has approved the financial statements for the year ended 31 December 2017.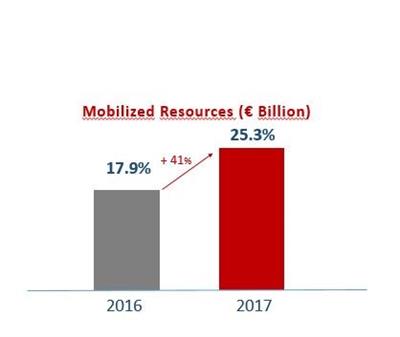 In 2017 Italian export recorded a growth of 7.4%, more than Germany or France, and confirmed its leading role for the country's development with a 30% contribution to GDP. In that context, the SACE SIMEST Hub significantly increased its support to the export and internationalization of the Italian companies by mobilizing € 25.3 billion in resources,the highest level reached in 40 years of activity and 41% higher than in 2016.
"The extraordinary growth recorded in 2017 is the result of all companies and people's commitment within the CDP Export and Internationalization Hub in pursuing greater support to Italian companies – declared Alessandro Decio, CEO of SACE –. We shall continue working with determination to consolidate these results and sustain the innovation capacity and international development of a growing number of firms, through the significant resources and solidity of the SACE SIMEST Hub".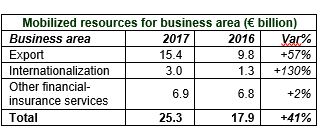 With this strong increase in volume, SACE confirmed the economic and financial sustainability of its business model, strengthening the balance sheet (SCR +23 points up to 177%) and efficiency ratios (cost/income down from 14% to 10%), and profitability in line with the objectives of the business plan (ROE equal to 5.9%).
The shareholders meeting also approved the distribution of a dividend of € 150 million and the allocation of € 124.9 million to reserves.
Documents
Events
Check our up-to-date schedule of meetings, courses, seminars and workshops related to the world of SACE.
Media Gallery
Videos and photos to keep up-to-date with the latest news from SACE: interviews, presentations and much more besides.
Social Media
Social networks represent a privileged communication channel for SACE to maintain a constant contact with all stakeholders.
We are present on all major social platforms:
Twitter: is our leading communication channel out there where we talk about all of our initiatives, operations with our customers and where we live our events live.
Facebook: On the page, given the vast and heterogeneous audience, we find in depth the stories of Italian companies we support all over the world and our insights on countries and sectors by our economists.
Linkedin: In this platform, which collects a professional audience, we publish all our economic studies and job ads.
Youtube: All our interviews to our customers, our people, our video tutorials from our economists, and success stories find room in our YouTube channel.
Would you like more information?