Press Releases and News
Discover what's new at SACE: the world of exports, the latest news and market scenarios, the trends in Italian industry and the most interesting success stories.
Various
SACE
-
26 June 2018
SACE SIMEST (CDP Group) opens in Shanghai
SACE SIMEST, the Italian Export and Internationalization Hub of the CDP Group, opens an Office in Shanghai, with the objective to offer Italian companies a reference point in order to develop their growth plans in Mainland China and near markets of South Korea, Taiwan, Japan and Mongolia.
The official announcement was released today, in front of a wide audience of representatives of the Chinese and international business community in Shanghai, attending the Grand Opening Ceremony at the former Chamber of Commerce in collaboration with the Italian Embassy.
Top management of SACE, Chairman Beniamino Quintieri and CEO Alessandro Decio, welcomed the guests together with Salvatore Rebecchini, Chairman of SIMEST and Antonella Baldino, Chief Business Officer of CDP.
"The opening of a SACE SIMEST Representative Office in Shanghai is crucial for the promotion of Italian presence in Chinese market and is a further demonstration of the excellent state of relations between our two countries. In this historical phase in which China announces new and promising market openings and wants to focus increasingly on higher standards of development and consumption growth, Italy has a lot to offer, particularly in the field of Innovation with advanced technologies and solutions. I am sure that the presence of SACE SIMEST in Shanghai will offer new tools to Italian companies to face and consolidate their presence in China and third countries " - commented Ettore Francesco Sequi, Italian Ambassador to the People's Republic of China.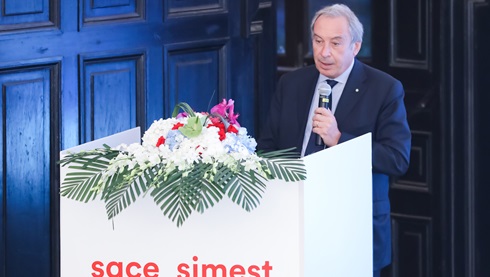 "After a long process of change, both at internal and international level, China is now implementing important initiatives to open up also in financial and regulatory fields - said Beniamino Quintieri, Chairman of SACE -. This new phase, which paves the way to a more incisive role also for export credit companies, brings also new and significant opportunities for Italian companies in a wide range of sectors in which our excellence and competitiveness are recognized. We are proud to be the first European export credit company to have its own outpost in mainland China and thus support Italian companies to reach a position that is equal to their potential".
With an exchange of 42 billion euros and over 1,700 Italian companies active in the country, Italy is already China's fourth largest trading partner and has the potential to grow further, thanks to the complementarity between Italian technological & industrial know-how and the needs of Chinese development; the appeal of Made in Italy to the growing middle class and new transnational projects (such as the Belt and Road Initiative, BRI) in which China plays a driving role both at regional and global level.
Italian exports to China, after reaching € 13.5 billion in 2017 (+22%), will continue its growth path, with a +12.3% increase in 2018 and a +8.8% annual average increase also in the following three years, according to SACE estimates.
In this context, SACE SIMEST office in Shanghai will act as an entry and intermediation point with the main Chinese economic-financial stakeholders - banks, authorities and specialized agencies. - to support Italian companies, ensuring transactions from political risks and non-payment, making it more convenient for international buyers to buy Italian products, facilitating the implementation of large projects of common interest with the involvement of Italian companies, both in China and in third countries, within the Belt and Road Initiative and beyond. SACE SIMEST will also support Italian investments, both financially and with capital injections, already counting on the shareholding of 50 Chinese branches of Italian companies by SIMEST. Finally, it will help the growth plans of the many Chinese-capital Italian companies.
Sectors of collaboration include: Machinery and Industrial Technologies in which Italian companies excel, especially Machinery for the Agri-food Industry; Health Care, Hospitals and Pharmaceuticals; and Tourism. Infrastructures and construction will play a key role in a large number of countries, from Africa to Latin America, where Chinese companies are investing consistently and where Italian companies have consolidated expertise.
Shanghai is the tenth international office of SACE SIMEST. Functioning as a hub for the markets of South Korea, Taiwan, Japan and Mongolia, it substantially strengthens the capacity of intervention of SACE SIMEST in the Far East countries, joining the office of Hong Kong, hub for the remaining Asia-Pacific countries (Vietnam, Thailand, Malaysia, Singapore, Indonesia, Australia, New Zealand, Philippines). SACE is also present in Mexico City, São Paulo, Moscow, Istanbul, Johannesburg, Nairobi, Mumbai and Dubai.
Documents
Events
Check our up-to-date schedule of meetings, courses, seminars and workshops related to the world of SACE.
Media Gallery
Videos and photos to keep up-to-date with the latest news from SACE: interviews, presentations and much more besides.
Social Media
Social networks represent a privileged communication channel for SACE to maintain a constant contact with all stakeholders.
We are present on all major social platforms:
Twitter: is our leading communication channel out there where we talk about all of our initiatives, operations with our customers and where we live our events live.
Facebook: On the page, given the vast and heterogeneous audience, we find in depth the stories of Italian companies we support all over the world and our insights on countries and sectors by our economists.
Linkedin: In this platform, which collects a professional audience, we publish all our economic studies and job ads.
Youtube: All our interviews to our customers, our people, our video tutorials from our economists, and success stories find room in our YouTube channel.
Would you like more information?