Press Releases and News
Discover what's new at SACE: the world of exports, the latest news and market scenarios, the trends in Italian industry and the most interesting success stories.
Various
SACE
-
31 March 2016
SACE best export credit agency in Europe and Middle East
SACE, the insurance-financial company of the CDP group, has been honored as the best export credit agency in Europe and the Middle East as part of the Awards for Excellence promoted by Trade Finance Magazine.
Based on submissions, editorial judgement and an external judging panel appointed by Trade Finance, the award is important recognition of SACE's activity in trade finance and project finance, in support of large corporations and SMEs, with particular reference to the two geographical macro-areas that account for € 17.5 billion and € 4.7 billion, respectively, in the portfolio of exports insured and investments guaranteed by SACE. This recognition is also confirmed by SACE's performance in 2015, where the € 9.7 billion in new guarantees granted concerned primarily the European Union (33%) and the Middle East and North Africa (27.7%).
This latter region remains one of the areas of greatest future potential for Italian exporters and SACE. Despite its characteristic instability and the problems posed by declining commodity prices, the area continues to be a significant pool for exports and investments in various industrial sectors and Italian consumer products. SACE has opened a new office in Dubai, a point of reference for all companies interested in operating in the region, with particular focus on Iran, where changes in the international sanctions situation are permitting a gradual return to trade and a greater capacity to attract foreign investment.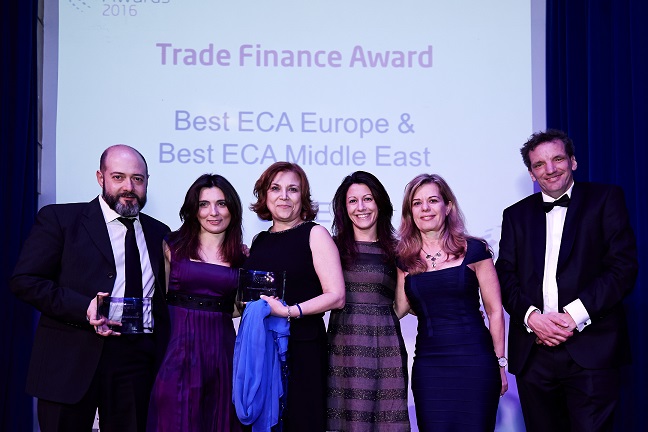 Documents
Events
Check our up-to-date schedule of meetings, courses, seminars and workshops related to the world of SACE.
Media Gallery
Videos and photos to keep up-to-date with the latest news from SACE: interviews, presentations and much more besides.
Social Media
Social networks represent a privileged communication channel for SACE to maintain a constant contact with all stakeholders.
We are present on all major social platforms:
X: is our leading communication channel out there where we talk about all of our initiatives, operations with our customers and where we live our events live.
Facebook: On the page, given the vast and heterogeneous audience, we find in depth the stories of Italian companies we support all over the world and our insights on countries and sectors by our economists.
Linkedin: In this platform, which collects a professional audience, we publish all our economic studies and job ads.
Youtube: All our interviews to our customers, our people, our video tutorials from our economists, and success stories find room in our YouTube channel.
Would you like more information?