JORGE PAULO LEMANN
In business there is a classic question about training: what counts more, study or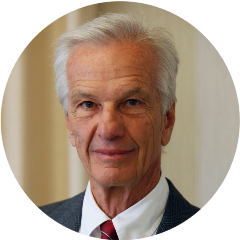 practical experience? Neither, according to Jorge Paulo Lemann: what counts is surfing. The answer is blowing in the wind. The same wind that in Copacabana lifted a giant wave, ready to crush him. Accustomed to waves three metres high at most, during a storm he found himself in front of a wall of ten metres. Twenty year-old Lemann went for it. And he made it out alive. "My adrenaline was rushing," he told an audience of Brazilian students five years ago; in the most difficult moments of his career as an investor, he continued, "I thought of that wave more than anything I ever learned at Harvard. It gave me self-confidence, when it comes to taking risks."
Today, at 77, Lemann is the richest man in Brazil (and in the Top 30 worldwide according to Forbes). And he is the man that – among the many other sectors he operates in – is transforming the beer industry, with the giant created by the merger of AB Inbev and SABMiller. He is used to coming first, but not only in business. Several times Brazilian national tennis champion, he played at Wimbledon, Roland Garros and twice in the Davis Cup: first for Brazil then for Switzerland (he has dual citizenship). His life has not always been easy. Lemann lost his father at age 14. At 54, he survived a heart attack. In 1999, the attempted kidnapping of his three young children at gunpoint prompted him to move to Switzerland, which his father had left in the twenties. Even in business things have not always gone smoothly. During his debut in the premiere league of finance, in 1971, a few months after Lemann had founded the investment bank Banco Garantia, the market crash that brought the country to its knees almost wiped out his baby as well.
Yet by 1998, after continuous growth, Lemann's "Brazilian Goldman Sachs" had become so attractive that Credit Suisse First Boston acquired it for $675m (despite the serious difficulties of another crisis affecting Asia and Russia that same year). With his partners at that time, Carlos A. Sicupira and Marcel H. Telles – ten or so years younger than him – Lemann continued on a powerful path. Their 3G Capital Partners (the acronym standing for the "three from Garantia") is a driving force behind globalisation, promoting key episodes of a consolidation process involving several markets. In 2010, 3G acquired Burger King with a leveraged buyout. In 2013, with the American investor Warren Buffett (friend and admirer of Lemann for many years), he purchased the giant Heinz, the largest acquisition in the history of the food industry, subsequently merging it with Kraft Foods: this resulted in the establishment of Heinz Kraft, the fifth largest food & beverage group in the world, with thirteen brands worth $500m or more in portfolio.
Nothing compared to what Lemann did in the beer industry, moving towards a virtual monopoly. 3G forged ahead in a series of rapid acquisitions, perhaps the most aggressive ever seen on international markets. The Brazilian brewery Brahma, acquired in 1989, was the starting point; with another Brazilian company, Brahma formed AmBev, which later merged with Interbrew, a Belgium group whose brewing origins dated back to 1366; this was followed by the takeover of the American company Anheuser-Busch; finally the recent merger with SABMiller. Lemann's style is distinctive, recognisable. He has always carefully studied the winning practices of innovators, later implementing them in the context he operates in – whether finance or business management. Garantia introduced new transaction financing techniques to South America, revolutionising the local market with solutions that were just starting to emerge in the United States. What Lemann learned about derivatives, still largely unknown at the time, during his New York experience at Bankers Trust was particularly important.
Jorge Paulo Lemann has always been an "early adopter", ready to learn, gather and mix influences to experiment without fear. Drawing a striking and centred parallel, the Financial Times compared him to the artists of "Tropicália" such as Os Mutantes, Gilberto Gil and Caetano Veloso, who in the late sixties combined local and foreign languages – from rock to bossa nova and bolero – in a varied and exciting mix, freeing Brazilian music from the constraints of tradition (Lemann is more prosaic and modest: "We are copycats" he told Fortune). Another characteristic feature is the almost ascetic approach that unites Lemann and his two partners of 3G: wealth is never an end, nor is it flaunted. 3G does not use corporate jets; luxury is banned from all offices – including those of the founders; and the managers of its subsidiaries often fly in economy. At the centre is dedication to success and work: almost obsessive. The company is always "looking for fanatics" to hire, explained the founders to Jim Collins, author of the foreword to Sonho grande by Cristiane Correa, the story of 3G. Lemann says he labels his ideal candidates with the acronym PSD: "Poor, Smart, Deep desire to get rich".
In his investment company as well as in his subsidiaries, meritocracy is the guiding principle: no "big shots" can enjoy a position without working hard, but those with skill quickly advance. And there are very strict rules preventing any nepotism. All good, then? No. Critics have no trouble pointing out the dark side of this success story. In the management of acquired companies, Lemann requires his managers to follow a precise and strict approach: relentless, almost mechanic, cost reduction and profit maximisation. Internally, 3G employees undergo enormous pressure for results. On the market, the exclusive reliance on economies of scale and systematic cost cutting push many mass consumption sectors to propose more and more uniform products with no personality, negatively shaping the tastes of consumers. In the beer industry there is widespread criticism by connoisseurs regarding American brands, with a bland and indistinct flavour: a now global process of involution that extreme market centralisation, also by Lemann, cannot help but accelerate.
For Italian companies wishing to draw upon this success story, there is a lot to learn from a personal case of dedication, openness, commitment to lifelong learning, and international vision. Perhaps less, probably, from a business model and strategy that more than innovating simply expands on a format that has existed since the fifties (and maybe in many ways is coming to an end). In terms of Italian food & beverage – as well as many other leading sectors – pursuit of quality, focus on consumers and developed markets, and interaction with the knowledge economy pay off more than a blind optimisation and cloning of existing practices and brands (on the topic, also read SACE Mag n. 1/2015). Like on that huge wave many years ago in Rio, in business Jorge Paulo Lemann always showed courage and an extraordinary ability to come out the winner even from high-risk situations. Even if over time his creativity gave way to more linear and quantitative logics, Lemann remains an out-of-the-ordinary source of inspiration: a person larger than life, impossible to ignore whether surfing, on a tennis court or busy revolutionising the entire world market.
The SACE Group Annual Review is the story of our 2022 lived alongside businesses in Italy and around the world.