Press Releases and News
Discover what's new at SACE: the world of exports, the latest news and market scenarios, the trends in Italian industry and the most interesting success stories.
Deals
SACE
-
30 October 2018
CDP Group supports Italian export: 1.2 billion to TechnipFMC and 100 Italian SMEs involved in the enlargement of MIDOR refinery
CDP Group has finalised a financing transaction worth 1.2 Billion in support of TechnipFMC, through its Italian subsidiary, and about 100 Italian Oil&Gas SMEs involved in the realisation of MIDOR (Middle East Oil Refinery) refinery in Alexandria, Egypt.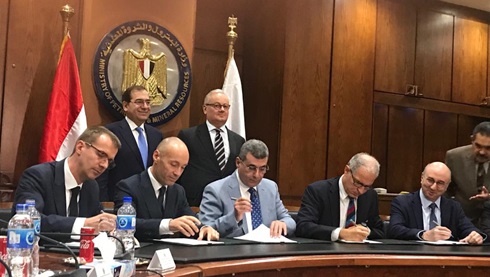 The announcement was made today, following the closing celebration ceremony organized in Cairo, in the presence, among others, of the Egyptian Ministry of Oil Tarek El Molla, the Italian Ambassador in Egypt Giampaolo Cantini, and the CEO of SACE Alessandro Decio.
The transaction benefits from the integrated action of both societies of CDP export and internationalization Hub: the funding was entirely guaranteed by SACE, benefitted of SIMEST interest rate stabilization, and granted by CDP, Crédit Agricole CIB and BNP Paribas Fortis S.A./N.V. – both acting as mandated lead arrangers. In particular, Crédit Agricole CIB acts as the Global Coordinator and Documentation Bank, while BNP Paribas acts as Facility Agent for the operation.
The successful tenderer, TechnipFMC, is a world leader in Subsea, Onshore, Offshore and Surface technologies. The realisation of the work will involve about one hundred of Italian SMEs as sub-contractors. The deal is part of a bigger project of 2.2 Billion dollars, which will improve and increase the production capacity of the refinery by 60%, already considered the most advanced of the African continent, with the aim to serve and satisfy both the domestic and foreign demand. Through this initiative, CDP Group confirms its commitment alongside Italian firms, sustaining them, with insurance and financial solutions, in the awarding and execution of relevant international contracts, in high potential markets for Made in Italy.
Documents
Events
Check our up-to-date schedule of meetings, courses, seminars and workshops related to the world of SACE.
Media Gallery
Videos and photos to keep up-to-date with the latest news from SACE: interviews, presentations and much more besides.
Social Media
Social networks represent a privileged communication channel for SACE to maintain a constant contact with all stakeholders.
We are present on all major social platforms:
X: is our leading communication channel out there where we talk about all of our initiatives, operations with our customers and where we live our events live.
Facebook: On the page, given the vast and heterogeneous audience, we find in depth the stories of Italian companies we support all over the world and our insights on countries and sectors by our economists.
Linkedin: In this platform, which collects a professional audience, we publish all our economic studies and job ads.
Youtube: All our interviews to our customers, our people, our video tutorials from our economists, and success stories find room in our YouTube channel.
Would you like more information?